Rebuilding after the 2011 Bastrop Fires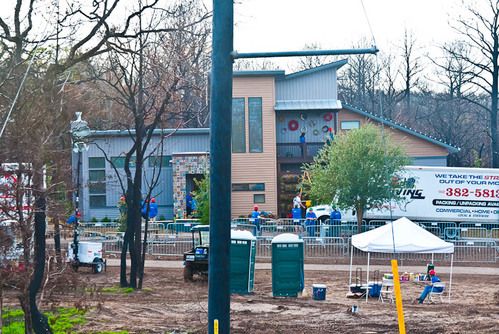 Some 1500 homes were destroyed in Bastrop, TX as the September wildfires raged across Texas. Three months later the determined folks of Bastrop are starting to get their lives back together.
"Extreme Makeover: Home Edition", the ABC program, teamed with local community partners such as "1 House at a Time" to build a house for a deserving family. A firefighter who fought the fires while her own house burned was selected.
Our friends, Stephenie and Gus, were among the 3000 local volunteers who built the house in one week. The house is seen at left. On December 14th we joined them to participate as fans in the crowd scene for the filming of the show. The program is set to air in December 2012. Here is a link to a San Antonio TV news clip on the event:
http://www.kens5.com/news/Bastrop-family-sees-new-home-on-Extreme-Makeover-Home-Edition-135657773.html
Here is the side of the Extreme Makeover bus. As part of the crowd we were to shout "Move that Bus" during the filming of the crowd scenes. Below is a view of the overhead camera.
Many houses are still in ruins. Some people have said that they will rebuild, while others have no such plans. Here is a photo of a typical scene of one of the 1500 homes destroyed.
Darth Vadar and some storm troopers were part of the crowd. Here Darth passes out cards to some eager children in the audience.
Stars of the ABC program were present for the days filming.