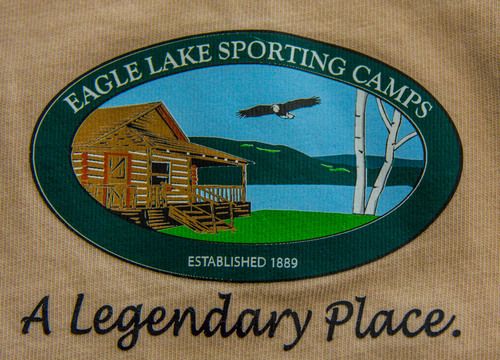 We were in Maine to attend the Violette and Michaud family reunions, as well as the World Acadien Congress. For the Violette reunion portion of the trip we decided to stay in a cabin. This was partially due to the Yosemite cabin frustration of the previous year (see our
Yosemite page).
The Eagle Lake camps were selected as they were a mere 47 miles from the Van Buren, Maine site of the reunion. What we had not accounted for was that much of the trip was on gravel, timber company roads. Twice we drove one 1 hour 44 minute trip back to camp after dark.
Eagle Lake Sporting camps have operated on this site for 125 years. They once had a staff of 30 people. They would bring their guests the 7 miles from the town of Eagle Lake to the camps by wooden boat.
The camps are now owned and run by Alan and Gloria Theriault and operate on the American plan where all meals are included. Typical meals that we enjoyed were French toast, pancakes, chili, chicken salad, seafood scampi and salmon. The deserts, especially the peanut butter pie, were fantastic. One day Gloria prepared a box lunch for us as we were going to be away from camp all day.
Generators supply the power for electricity. At night the generators are turned off, so one uses gas lights.
One morning Alan took us for a pontoon boat ride up the Sqare Lake Thoroughfare. Thr throughfare is a 3 1/2 mile channel between Eagle and Square Lake. We turned around about half way at ,appropriately, Halfway Brook and returned.
The cabins are all named for fly fishing flies. Our cabin was the Gray Ghost. For more information contact:
www.eaglelakesportingcamps.com
On three occasions we had moose cross the road in front of us as we returned to the camps. These were thrilling events to say the least. We were not quick enough to capture these events with our camera. On our last day at camp our quest was to photograph a moose. We consulted the camp folks and returned to the area that we had seen moose on our drives. We didn't see a bull moose, but were able to get a picture of a cow and her calf, which you can see in the slideshow.
Below, we try to chronicle our wonderful adventure in the northern Maine woods with a slideshow. In the show we cover the road to camp, our cabin, scenes from around the property and our pontoon boat ride as well as our moose photo.