We have a planned tent camping trip to Utah coming up in May.  It has been over a year since our last camping adventure, it was time to check the gear.  Therefore, we decided take a one overnight practice to a state park campground.  Colorado Bend SP (near Bend, TX) was only 2 hours away. It had the added bonus of a photogenic waterfall.  Also, this was our first visit to this park.  

The weather cooperated for this getaway.  During this brief visit, we experienced two beautiful hikes.  We also saw wildflowers, critters, the river and the waterfall.

The campsite, although being semi-primitive, was  wonderful. 
Below are a few photos of our tent, the facilities and breakfast preparation.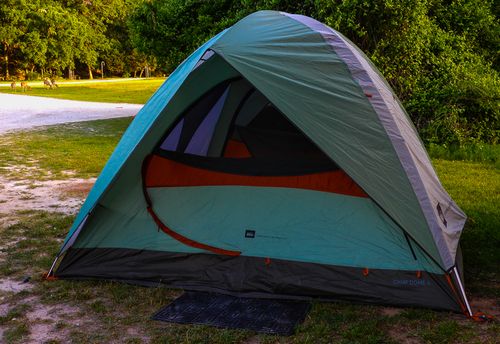 After setting up camp on April 17th, we took about a 2 mile hike on the River Trail to explore some of the park. It was a beautiful, early evening trek. Here are some images from the River Trail. Central Texas is experiencing a moderate drought.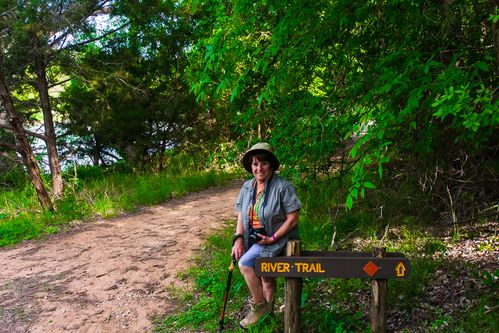 The armadillo and the wooly worm were seen along the River Trail. The deer were in the meadow near our campsite as you can see in the background of the tent photo above.
Here we are at the the beginning of the 3 mile round trip hike to Gorman Falls at 10:38am on April 18th.  The difficulty level is listed as moderate.  The elevation change was 344 feet.  It was quite rocky in places.  It was steep and slippery near the falls.  They did have cables to assist us in our descent and our climb back up after viewing the falls.  Walking sticks and good hiking boots are recommended. 

This time of year the trail was quite scenic with wildflowers and blooming cactus.  

We were glad that we brought plenty of water for this trek.  Here are some images from the trail.
In the middle of Texas, after a hike over a rocky trail through fields of wildflowers and cactus, one does not expect to see an area reminiscent of a Costa Rica rainforest.  Gorman Falls provides the unexpected.  The water, though not voluminous, is more like a misty shower than a gushing falls.  The lichen covered rock face has been described as a series of scary faces.  

The primary viewing area is 20 or 30 feet above the pool at the base of the falls.  

Hopefully, our photographs capture a sense of the serene beauty of this Texas parks' gem.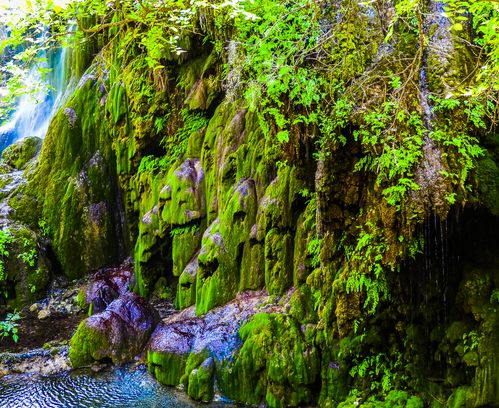 Happy Trekkers Ready to Head Home
Our day is almost over.  We have been to the falls and are nearly back to our car for the 2 hour drive home.  We are, at this point, what can be described as happily fatigued.  We've had a day of hiking, photographing and enjoying the wonders of nature.  

We deemed ourselves ready for our Utah camping trip.