We returned home on August 9th after a 28 day road trip to the west coast. We were tired, but we wanted to plan something for our 52nd anniversary which was coming up in 12 days on the 21st of August. We kicked around several ideas over the next couple of days. On August 12, 2017 we decided that it would be neat to photograph the total solar eclipse, which was due to occur on our anniversary (8/21/2017).
The rest of the country had been planning for several months for this event. We had 9 days.
The path of the eclipse was from Oregon to South Carolina - Where should we go? We decided on Missouri, as we could also take in a couple of ball games - one in Kansas City and one in St. Louis.
To see some of our eclipse photos click here:
Eclipse Photos
Planning and Day of the Event
Here are the areas of planning that we had to consider as we began preparations for our adventure to photograph the eclipse in Missouri:
Lodging
Plan route
Learn how to photograph a solar eclipse
Have car serviced
Get proper equipment to view and photograph an eclipse
Scouting locations to view and photograph the eclipse
Here are the key activities that took place on August 21, 2017 (The day of the event):
Three sisters and the Subway
Confederate Memorial Park
The 1:09pm Eclipse of the Sun
After the eclipse
Finding lodging in the area of a total solar eclipse was a chore in and of itself. We spent most of the day on Saturday, August 12th checking hotels, and campgrounds. There was nothing at KOA or state park campgrounds. The same for hotels in St. Louis, Kansas City, Jefferson City, Columbia or St. Joseph. Finally, we checked Marriott for anywhere in Missouri.

Low and behold they had a vacancy at a Fairfield Inn in Warrensburg, MO. Warrensburg was just a few miles south the path of totality. When we checked in, we learned that they had just opened two weeks prior to the eclipse. Karma!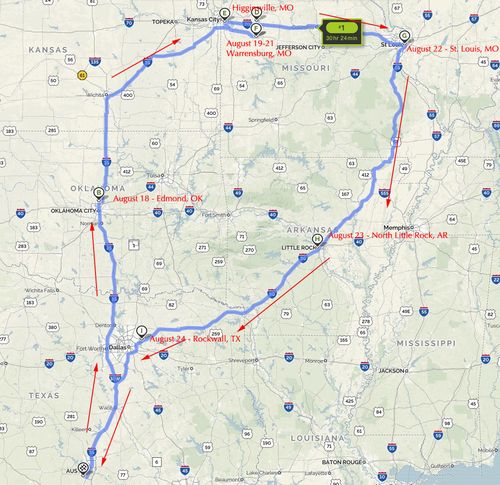 We now had reservations in Warrensburg, MO for the 19th through the 21st of August. We then made reservations for the 18th in Edmond, OK, which was about halfway to Warrensburg. While in Warrensburg we planned to drive to Kansas City on the 20th to see a Royals game. Reservations were also made for St. Louis and Little Rock to see additional ball games.

Along the way we made stops to see the following National Park sites: George Washington Carver NM, Harry S. Truman NHS, Jefferson National Expansion Memorial, Little Rock Central High School NHS and the Waco Mammoth NM.

We planned these additional stops as a backup plan in case weather ruined our eclipse experience and to make the most out of the trip.
Learn how to photograph a solar eclipse
Sunday was spent on the internet studying everything I could find as to how to photograph the solar eclipse. Finally, I went to John Shaw's web site. I've taken a workshop from John Shaw and I have several of his books on photography. He always explains photography techniques in an easy to understand way.
On his website was an easy to follow step by step guide to photographing the solar eclipse. From that I created a checklist for my camera and lens. Click
here for my Checklist.
From Shaw's tips and everybody else it was clear that the only additional equipment I needed was a solar filter to protect the camera during the partial phase of the event.
When we got back from our previous 4988 mile trip from the west coast, I had already made an appointment to have our car serviced on Monday, August 14th. As the Subaru facility was near Precision Camera, I planned to get my solar filter at the same time. Didn't happen as Precision had decided not to have them for the eclipse. While getting our car serviced, I got on my cell phone to various online photo equipment suppliers. The first one that I got through to said that they didn't have any left and that everybody else was searching for the same item. Finally, after giving up on a couple outfits that put me on hold, I got through to B&H and they had them available. This was Monday and we had to leave on Friday so I requested overnight shipment. For some reason the shipment was delayed a day. I did receive my solar filter Wednesday evening. That allowed me one day, Thursday, to practice with it.
Get proper equipment to view and photograph the eclipse
We had the filter on the way, the only other item we needed were the the glasses to view the partial eclipse. No stores in Austin had any left. We decided to make a pin hole camera as a substitute for the glasses.

As you can see the image is pretty small, but at least we could use it to help with positioning my camera for the eclipse images.

However, it would be nice to have the proper glasses.
Scouting locations to view and photograph the eclipse
There were big events planned in most of the cities in the eclipse path. We didn't want the crowds. Higginsville, MO was only 20 miles from our hotel, was due to have 2 minutes and 19 seconds of totality and had no events planned. Perfect!

On the day before the eclipse we drove around Higginsville to scout possible locations. We found a beautiful state park, called Confederate Memorial State Park, just north of the town. The park had picnic areas, several small ponds and lots of open space.

We also found a Subway sandwich store on the way to the park. Our plan was to get up early, stop at the Subway and set up at the park.
Three sisters and the Subway
The partial eclipse was to start at 11:42 am with totality at 1:09 pm. Not knowing how traffic or how packed our venue of choice would be we left the hotel about 8am for the drive to Higginsville. We arrived at the Subway restaurant at 8:25am. The sign on the door said that it would open at 8:30.

A few minutes after 8:30 the manager came out and said she had to go home as there was no cash for change in the cash register. She got in her car. It wouldn't start. After several tries, she asked me if I could drive her to her daughters house so she could borrow her car and retrieve the needed cash so she could open the store. We complied with that request.

Upon our return to the restaurant, we started talking with three sisters from Iowa that had a similar plan to us. They were getting sandwiches for an eclipse viewing picnic. One of the sisters asked after seeing our Texas plates, how did we know the Subway manager. We said we didn't, we just wanted to help her get the store opened. During our conversation with one of the sisters, we mentioned that we were not able to secure the eclipse viewing glasses. She said that there were 3 of them and they had 4 pairs. They kindly gave us one of theirs.
Confederate Memorial Park
We arrived at the park a little after 9am. They had folks directing traffic to a grassy area for parking. There were some 20 cars there when we first arrived. Later the number of cars grew to about 50.


There was significant cloud cover and occasional showers. Discussions with the others at the park centered around whether we thought it would clear in time. Several had their phone weather apps on following the weather patterns. Most agreed it was going to be a close call.

We had our lunch about 11am. As it was raining, we started eating in the car. The rain let up some, so we finished our lunch on a nearby bench.
There was a nice grassy area near one of the park's several ponds. We had our equipment set up near the pond in this grassy area. We planned to get some reflection shots of the eclipse in the pond and get direct eclipse shots from the grassy area.

As you can see, from the shot of the cars above and the pond at left, there was considerable cloud cover. It was persistent throughout the morning.

All during our time at the park, most eyes were looking skyward.
We could see that there was some blue sky to our south. Of course the further south we went the less totality we would get. We had no idea how far south we had to go to get clear skies and still be in the path of totality.

People starting leaving the park about 11:30am.

We waited until about noon. We knew the partial had already started and there was still considerable cloud cover.

We hated to leave our spot, but we also decided to head south.
The 1:09pm Eclipse of the Sun
We drove south on route 13, through the main part of Higginsville. It was still cloudy. We continued until we reached the intersection of 13 and I-70. We pulled off at a Casey General Convenience Store. The parking lot was nearly full, but we were able able to find one of two spots in the back of the store.

We hurried to set up the camera. It was 12:38pm when we took the first photo of the partial eclipse. We were set to take the total eclipse with 31 minutes to spare. Phew !!!

There was quite a celebration at the moment of totality. People were cheering, shouting and taking photos of each other and the eclipse. As expected, it got extremely dark during the 2 minutes of totality at our particular location.

At the transition from partial to total eclipse, I managed to get the solar filter off, but I wasn't able to change camera settings as I intended. It was dark, difficult to keep the eclipse in the frame and a certain amount of panic set in. So I just kept clicking away while keeping my concentration on keeping the eclipse as close to the center of the frame as possible.
We were 38 miles from Independence, MO; home of Harry S. Truman. As this is a National Park site, we thought it would be neat to get a stamp in our passport book with the date of our anniversary and the date of the eclipse. So we headed west.

We didn't know before we arrived that they had a special stamp for those who visiterd on the day of the eclipse. Pretty Neat!

After visiting the Harry S. Truman NHS, we got back on I-70 for our return to our hotel in Warrensburg. The photo below shows the traffic heading back to Kansas City after eclipse viewing.