Painted Churches of Texas
Schulenburg is the official home of the Painted Churches of Texas. There are 20 of these churches. They were built by Czech and German immigrants in the late 1800's. They brought to their new home the architectural style of their homeland. Even though the exterior of each church is beautiful, their uniqueness comes from the elaborate interior design.

On April 2, 2019 we visited the following four: Sts. Cyril and Methodius in Dubina, St. John the Baptist in Ammannsville, St. Mary's Catholic in High Hill and Assumption of the Blessed Virgin Mary in Praha. The image to the left is the Praha church.

We had heard about these churches for quite some time. We decided that April would be a good time for a visit as it is considered wildflower month in central Texas. We were lucky to pick one of the few bright, sunny, clear days we've experienced this spring.

A map of the locations of these painted churches is available for $5 at the Greater Schulenburg Chamber of Commerce at 618 N. Main, Schulenburg, Texas.



The Czech-Moravians founded the settlement of Dubina in 1856. Dub is the word for oak tree in Czech. The original church, built in 1877, was destroyed by a storm in 1909. The present church was completed in 1912. The interior is decorated with frescoes and stenciling with a beige and blue background.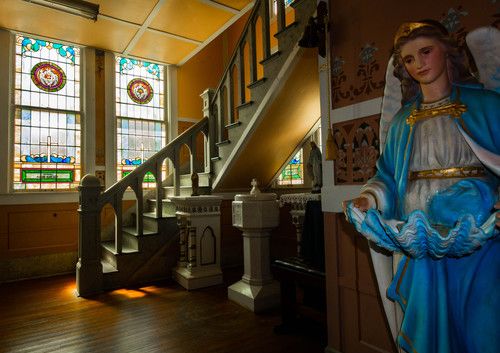 German and Czech immigrants settled here in the 1870's and named the town after Andrew Ammann. The first church was built in 1890. This church was destroyed by a storm. It was rebuilt and burned down. The parishioners salvaged statues. They can be seen in the present church which was built in 1917.
The town of High Hill was settled by several families from Austria. This church has been placed in the National Registry of Historic Places. It is known as the Queen of the Painted Churches. It exhibits an ornate design with stained glass windows.
Czech-Moravian families settled here in 1854. The present stone church was built in 1895. The vaulted ceiling was painted by Gottfried Flury, a Swiss artist, and has never been repainted.