An early day!
Reservations for the 6:30am ferry from Anacortes to Friday Harbor were made a couple of weeks in advance. The instructions said to be there 1 hour before departure. It was a 45 minute drive from our hotel. So, out of bed at 4:00am. Ouch! Our ferry, the Kaleetan, was a ride of about an hour and 20 minutes.
The highlights on the island were:
San Juan Island National Historical Park
Cattle Point Lighthouse
Lime Kiln Point State Park
San Juan Vineyards
Friday Harbor
San Juan Island National Historical Park
From 1860 to 1872 America and Great Britain claimed San Juan Island. Both maintained camps on the island. There was one casualty during their "war". An American shot a Hudson Bay Company pig that was rooting in his garden.
Here are some scenes from a short hike along Fourth of July beach at American Camp: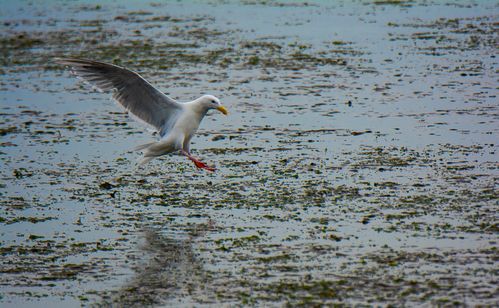 Cattle Point Lighthouse marks the southern end of San Juan Island. The original 1888 light was a lens lantern on a post. The current lighthouse was built in 1935. It had a 4th order Fresnel lens(since removed). The lighthouse was used for the backdrop of a 1984 Exxon TV commercial.

Erosion threatens the structure so the Coast Guard announced a project to protect it in 2010. It was under renovation during our visit.

Since 2013 it has been included in the San Juan Islands National Monument
Lime Kiln Point State Park
This 42 acre park is on the western shore of San Juan Island. It is supposed to be one of the best shore based places in the world to view orcas due to its bathymetric characteristics. We didn't see any orcas from this point. We did photograph the Lime Kiln Lighthouse through a Pacific Madrone tree. As the madrone grows it sheds its bark. This bark is then replace with a new layer. The image at right shows three stages of bark growth.
No vacation is complete without a stop for some wine tasting. This winery features 3 whites (Madeline Angevine, Pinot Gris, and Chardonnay) and 4 reds (Cabernet Franc, Cabernet Sauvignon, Merlot and Red Wine). The red wine is a blend of Cabernet Sauvignon, Cabernet Franc and Merlot. The tasting costs $10, but that cost is waived with the purchase of a bottle. We bought a Pinot Gris and a Cabernet Sauvignon for our hotel room. The white grapes are grown on site. The reds come from eastern Washington. Here are a couple of photos from the property:
The self directed island tour finished with a few hours to spare before the return ferry to Anacortes was ready for boarding. So, while we waited for our ship to come in, we had a nice lunch at Downriggers. Our table was on their balcony over looking the harbor.
During our return trip to Anacortes, we were treated to a beautiful sunset over the Salish Sea.